Meeting Restaurant Point of Sale Expectations
Your point of sale system interface isn't just about making it easier for your team to run your restaurant. It's a pivotal interaction between your company and the customer. The speed and ease of that interaction can make or break your company's identity in the customer's mind.

To make your sales process as smooth as possible, the systems your company has in place need to be equally well designed. IQ Interactive harnesses the power of digital innovation to create business solutions that match your vision for the future. That includes our restaurant point of sale systems. Unlike a typical product reseller, we have valuable industry experience as a direct provider.
Looking for restaurant POS pricing? Click here to receive your price sheet.
We've done this before.
We've looked at the trends, we've compared the data, and we've made the case studies.
Check it out for yourself: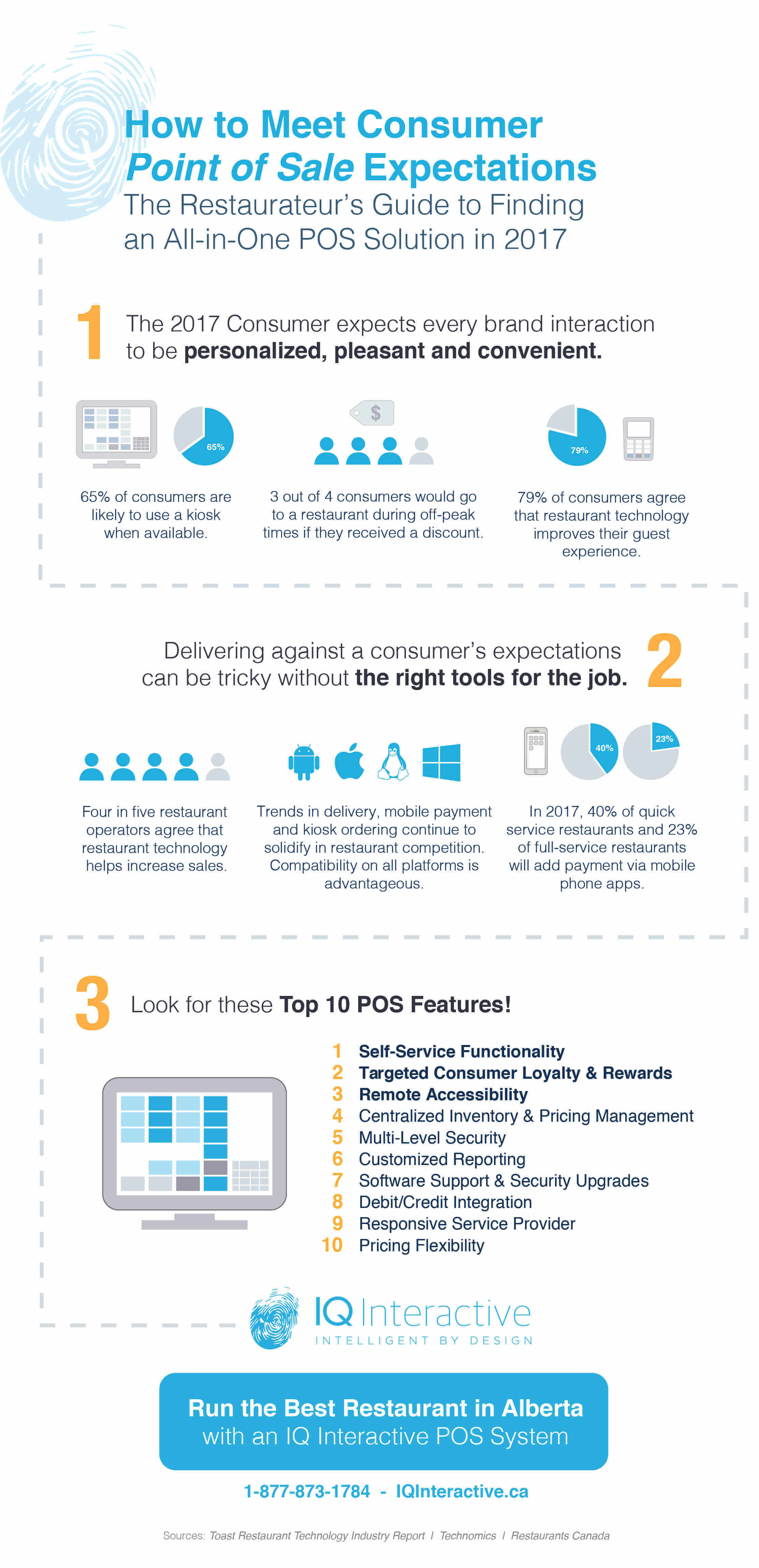 Choosing the Right Restaurant POS System

The food service industry is varied and each type of restaurant requires the right point of sale system for the job. Restaurant POS system needs vary from quick service restaurants, fine dining, nightlife spots, to institutional eateries or cafeterias, hotel restaurants, and event centres.
Choosing the right system for you doesn't have to be complicated - no matter your business, we have the all-in-one solution to increase your profits and enhance your customer loyalty.


Self Service POS Systems
The restaurant industry is changing rapidly with the onset of new technology and a lot of it is happening within the customer service interaction. The trend of self-service is taking over at breathtaking speed - and not only within the food industry but also in hospitality, retail and even healthcare.

Opting for automated, self-service POS systems saves company labour costs while reducing the wait time a customer experiences, resulting in happier clients and fewer complaints. Research shows that customers are increasingly appreciating the order accuracy and efficiency of touch screen point of sale interactions - without a fear of miscommunication. Internally, automation removes monotonous tasks and streamlines communication for your staff, helping to reduce overall workplace stress.

IQ Interactive utilizes the latest in software and hardware technology to deliver industry-leading POS technology to clients. We have successfully deployed 15 self-service point of sale ordering systems in many of our client locations, allowing visitors to order using interactive self-service kiosks. Integrating our self-service POS system not only significantly increases your business efficiency but also gives you instant branding advantages! When not in direct use, your automated displays will act as visual displays and digital marketing aids.
Engaging a customer should be more than taking their order. With increased order accuracy, reduced wait times, and efficient communication with a self-service ordering system, the customer is more receptive to company messaging and having a conversation with your staff. Be known as a company that evolves with the times and modernize your customer interactions!
Key benefits:
Increased Business Efficiency, Decreased Turnover

Happier Customers

Increased Profit through Digital Advertising,

Stay Up to Date with Customer Expectations and Industry Practices

Click here for more on self-service POS systems.
Quick Service POS Systems
Quick service restaurants (also known as fast food joints) are restaurants that expedite food prep and minimize table service time. They include everything from fast food chains and direct delivery to food trucks and coffee shops.
Specific to quick service, an IQ Interactive restaurant POS system will allow you to streamline customer ordering by allowing every menu item and its variation to have its own key. User interfaces are highly customizable. Work orders can be sent directly to the line terminal to decrease the amount of time they are kept waiting. POS system can track deliveries in progress and support online ordering. You can also manage multi-location terminals from one central location, ensuring pricing is consistent and changes can be made remotely, with ease.
Key benefits:
Menu Management

Delivery Tracking

Online Ordering Capabilities

Customer Loyalty Programs
Click here for more on quick service restaurant POS systems.

Fine Dining POS Systems
Fine dining falls under full-service restaurants: a sit-down eatery where the quality of table service is paramount. They usually have a relatively broad menu with items that may be altered seasonally. As with all POS systems, tracking of orders and deliveries, payroll, employee schedules and delivery can also all be included. Empower your staff by letting them quickly manage orders, split bills, take card payments and more without delay.
Key benefits:
Inventory Tracking

Recipe and Food Cost Management

Staff Management and Anti-Theft

Accounting Integration

Unlimited Price Level Integrations

Customer Loyalty and Points
Click here for more on full-service restaurant POS systems.

Bar, Pub and Nightclub POS Systems
Bars, clubs and other nightlife spots often have a huge number of people and events happening at a very fast pace. Optimizing the POS system will streamline operations and help you serve your guests in the best possible manner.

CRM integration with your POS is integral to understanding your audience and capturing the highest-spending clients who return regularly. Collect guest contact information smoothly with a built-in system and then use the software to build optimized lists. When hosting a large event like a New Year's Eve party or St. Patty's celebration, you'll want to invite the highest spending clients to fill the tables.
You'll also want your staff to spend as much time as possible with your guests. This greatly improves the way in which people view your venue and how efficiently they feel they are being served. Moving around a lot means your staff will need mobile units to take orders, conduct transactions and print receipts.


Key benefits:
Inventory Management and Sales Reporting

Well Designed User Interface and Touch Capability

Out-of-Box Anti-Theft Measures
Click here for more on nightclub POS systems.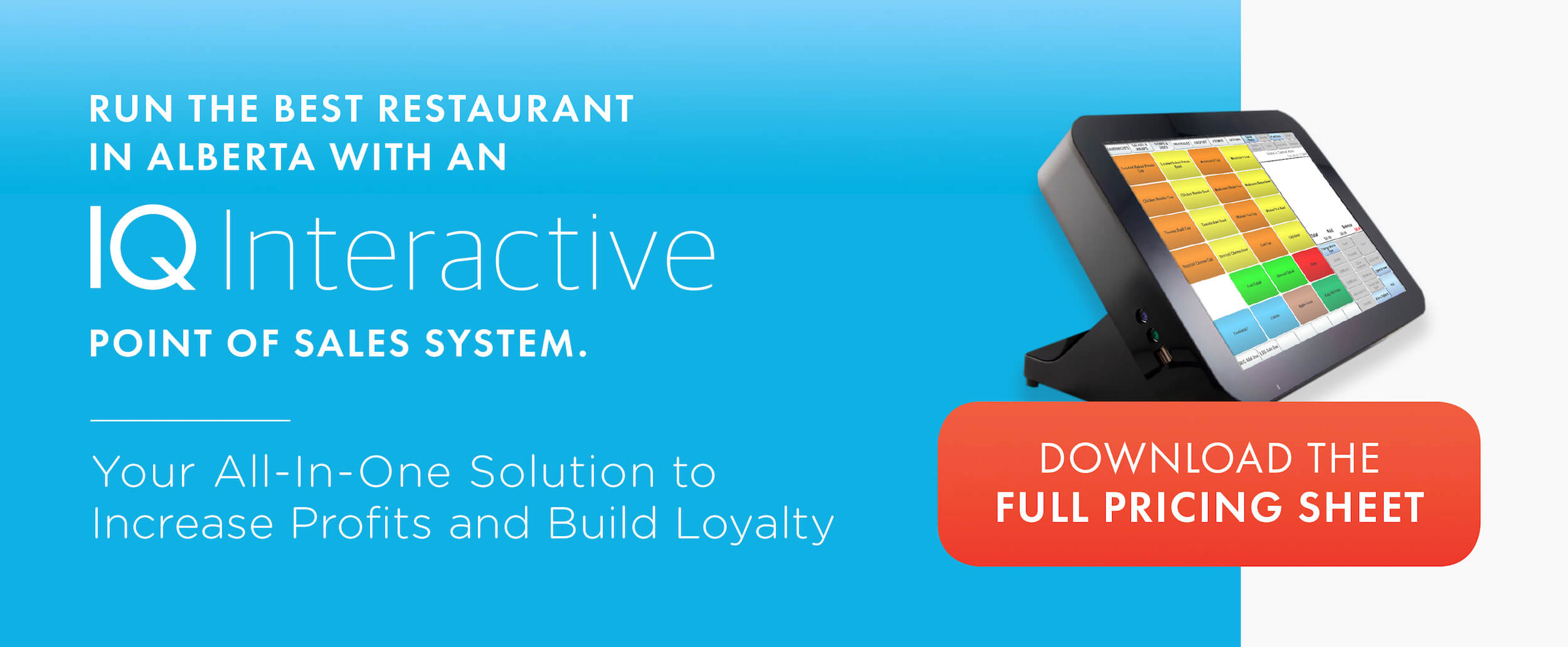 Cafeteria POS Systems
Choosing the right POS system as an institutional or large scale food provider can be challenging because whatever you choose will require a high degree of operational reliability and the ability to scale alongside the growth of your business.
When you are servicing a large number of people in the food industry on a regular basis, you need an enterprise level solution with rock-solid reliability. The POS will also require powerful reporting capabilities for management purposes - but with a usability that caters to any level of user. Good thing an IQ Interactive restaurant POS system has just that.

Key benefits:
Scalable infrastructure

High Reliability

Powerful Reporting Capability
Click here for more on cafeteria POS systems.

Event Centre POS Systems
Stadiums and Convention centres present unique challenges to food service management. Your centre's POS system will need to deal with venue size and distance, linking concessionaires, enabling data syncing and more.

Wireless capability is an absolute must and each device should be enabled with peer-to-peer communication and act as a POS terminal for maximum data redundancy and system stability.
Key benefits:
Network reliability

Robust Data Communication

Efficient Linking of Concessionaires
Click here for more on stadium and event centre POS systems.
Hotel and Casino POS Systems
Hotels and casinos often land in the cross-section of the hospitality and foodservice industries, meaning that all of your system and operational procedures straddle the need for speed, accuracy and security in enterprise level context. Not sure if a conventional restaurant POS system is right for you? You've come to the right place - an IQ Interactive restaurant POS system isn't exactly conventional; it's functional and highly customizable for your hospitality operations needs.

Key benefits:
Centralized Menu Management

POS terminal mobility

Customized interface

Low Operation Costs

Powerful Reporting Capabilities
Click here for more on hotel restaurant POS systems.


Opt for an IQ Interactive Restaurant POS System
If you're running a restaurant, there are clearly a lot of things you need to be keeping an eye on and it can quickly become overwhelming if you don't have the right tools for the job.


IQ Interactive is a Canadian-based software company with industry expertise in hospitality, restaurant and retail industries. We work hard to make sure you can focus on growing your business instead of scrambling to stay organized.
Our proprietary platform provides the operational capability, complete feature sets, enterprise-level reporting capabilities, secure fail-safe data redundancy and data synchronization management you need. We combine advanced architectural design with platform independent open-database flexibility so that your investments are protected.