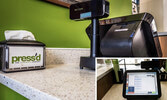 Case Study: Press'd Sandwiches - Enterprise-Level Restaurant POS System
If you're looking for a restaurant POS system, you're likely wary. Wary of features, wary of cost and wary of salesmen.
We don't blame you; there are a lot of systems out there.
To help you discern which restaurant POS system is right for you, rather than listening to us tell you about our system, we'd like you to hear from a valued client and partner of ours. The story of Press'd The Sandwich Company is as great a story for IQ Interactive, as it is for Edmonton.
Looking for restaurant POS pricing? Click here to receive your price sheet.
A Local Enterprise-Level Restaurant POS System
Opening its first location in 2010, and second in 2011, Press'd was one of the first sandwich shops to truly challenge SUBWAY® restaurants in the Edmonton area with a high-quality array of menu items. However, the growth would not stop with two locations. There came a point in which Press'd needed to evolve its systems to accommodate a multi-location restaurant model.
When searching for an enterprise-model restaurant POS system, Press'd came across IQ Interactive as a local competitor to their previous provider. "IQ was affordable, reliable, and we tested out [the Volante system] at one or two locations," Grant Fedorak, VP Operations of Press'd, recalls.
The switch made sense.
"We were looking for, as a growing franchise, an enterprise model. To control everything from a home base and push out to our stores; proper web reporting was very important," Grant shares of the search for a new restaurant POS system. "For us, being a franchise model, we need to make sure everyone's adhering to the same systems. We have control over everything on the POS, at any time of day we can see reports, pricing or menu updates. Anything you would need to do, and potentially need to do at a location, we can log in remotely to make the necessary adjustments or check out the sales and promotions."
After making the switch, Press'd did exactly what they had set out to do and has now grown to 15 locations throughout Alberta and Saskatchewan.
A Worry-Free Restaurant POS System

The last thing a growing restaurant franchise wants to do is switch their systems at every point of growth, or hesitate that their point of sale system will stand up to a challenge. For fast casual (or quick service) restaurants like Press'd, franchise expansion and increased traffic are two welcome challenges that require POS systems to stay the course. Since switching to and launching IQ Interactive POS systems in 2013, Press'd hasn't looked back.
"We just haven't looked at another provider because we get everything we need. It's never crossed our mind that we've needed to look at another system."
For Press'd, satisfaction has come in different areas, including service, features and reliability:
When it comes to service, Press'd shares that "the IQ team is always responsive; they have guys on call all the time, whenever there's an issue."

When it comes to features, Press'd indicates they've "ticked the box. We're happy with it, we're comfortable with it, there is nothing else out there that's drastically ahead, and we get everything we need. It's a worry free system for us."
When it comes to reliability, Press'd confirms the POS system "will run if there are interruptions in your service," and track everything that's being done offline. When things are back up and running, everything is uploaded to the cloud.
In addition to general points of satisfaction, when opening a new location, the turnaround to install a new IQ Interactive POS system is "usually quite smooth," shares Grant. Press'd notifies IQ Interactive at the start of a new restaurant build so hardware can be ordered in time for opening. IQ Interactive notifies Press'd when there are improvements to the software system so operations can continue to improve.
"We do have a fully customized report section that IQ Interactive helped create initially. They've reached out twice to remind us that they've identified improvements. It's a convenient thing for us and our franchise owners that they've identified these improvements are available."
This kind of proactive communication on both sides of the table has allowed the relationship continued growth.
A Trusted and Recommended POS System
As Press'd continues to evolve as a franchise, there have also been evolutions to the restaurant POS system that have resulted from the ambitions of both Press'd and IQ Interactive. Most recently, an improved customer loyalty program that Press'd is just launching.
"We've used them quite a bit and have kept pushing them. We've worked with them to integrate with the new loyalty system, new payment processors. They keep responding and evolving."
If you are looking for a restaurant POS system for your business, quick service or otherwise, don't hesitate to grab a sandwich at your nearest Press'd location to experience an IQ Interactive POS system from a customer's perspective.
"We wouldn't hesitate to recommend them or their services." - Grant Fedorak, VP Operations, Press'd Sandwiches
Interested in an IQ Interactive POS System for your restaurant? Click the image below to receive our full pricing sheet, and to receive a call from one of our POS experts for customized pricing for your business.